Empowering Users Everywhere
HealtheFirst is an adaptive business process management platform for small to mid-size companies that creates workflow efficiency across multiple industries.  Our agile SaaS platform easily answers and automates the everyday needs and opportunities in your company.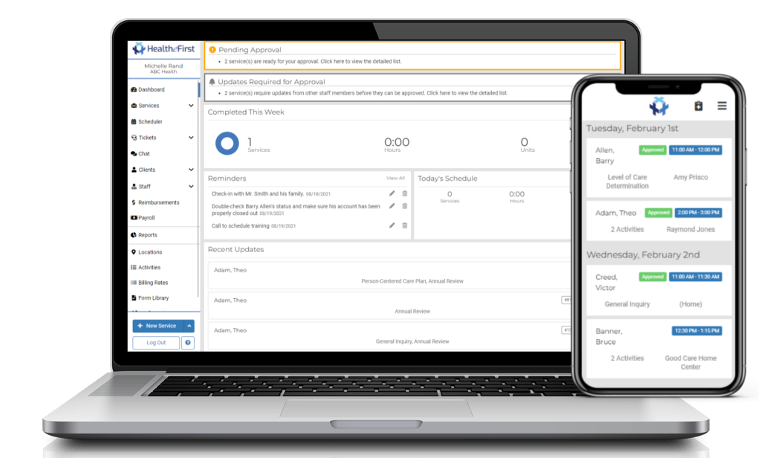 Healthcare
Case Management, Corrections, Athletic Training
Business
Consulting, ERP, CRM
Education
Test Scheduling, Tutoring
Features
Everything You Need
SaaS
The need for costly maintenance and management of expensive hardware is eliminated. The SaaS solution allows leaders to focus on opportunities by enjoying work and perhaps resting a little bit too!
Secure Communication
Safeguarding user privacy and confidentiality, the software is HIPAA compliant. HealtheFirst offers greater protection and utmost care to all its users. Any intrusion is identified immediately and blocked.
Efficient Administration
It is just about a few taps on the screen that all your payment and billing matters will be resolved. HealtheFirst makes reimbursement simple and easy so as to spare you the complexities that payment issues cause.
Workforce Management
HealtheFirst brings you a unified workforce management technology to help you support plan, deploy, hire, and monitor your employees. From managing leaves, check-ins to paying employees on time, the platform saves you from a whole lot of work that otherwise causes delays, backlogs, poor productivity, and employee dissatisfaction.
Connect Everyone
Allow clients, partners and third-parties to be involved in the work at hand by facilitating communication, document collaboration, record sharing, and more.
Virtual Client Services
The virtual client service enables you to virtualize applications so you can support and monitor workforce mobility, reduce costs, and keep data secure. The HealtheFirst highly secure Client Portal provides easy access to clients, partners, third parties and all others that need to be involved in the work at hand. Through the Portal you can meet, communicate, share documents, strategize, share records, complete tasks and more.
Highlights
Adapts to Your Needs
HealtheFirst is a case management and business operating system that flawlessly integrates with varying biz structures to help optimize operations. It adapts to unique attributes of a business to offer real solutions that answer problems to help you run more smoothly. HealtheFirst relieves physical and economic strain on your people and systems.
Automated, user friendly workflows keep things running smoothly. Time and actions based tracking, alerts, and reminders keep things moving on schedule and with efficiency in your company.
Advantages
Puts Your Data to Work
You collect and maintain complete and accurate info which insures you have accurate, real time, and ironclad facts and intelligence that tell the truth at all times and places.
Data is not prized for no reason at all. It is how you utilize the data that affects the operations of your business and its scalability. With a single software looking over all your data and managing its use and connectivity, you are able to save millions that are otherwise spent due to errors or hiring of extra help.
Feature Matrix
Learn How We Can  Help You
Companies are seeking high quality, affordable SaaS case management and business operating systems. Teams want simple, accessible, compliant, adaptive, risk-free solutions to manage people, paperwork, and activities. They want to save time, grow profits, and make clients and staff happier.
SaaS

Workflow Creation

Workforce Management

Secure Communication

Patient Portal

Biling & Payroll

Reporting & Exports

Support Ticketing

Visit Verification
SaaS

Workflow Creation

Workforce Management

Secure Communication

Client Portal

Biling & Payroll

Reporting & Exports

Support Ticketing

Visit Verification
SaaS

Workflow Creation

Workforce Management

Secure Communication

Student Portal

Biling & Payroll

Reporting & Exports

Support Ticketing

Visit Verification

Testimonials & Partners
Created By You, For You
"Its user interface is amazingly simple and it has everything needed, from scheduling to audit reports, for a case management company to be very successful."
Krissie, Agency Owner
"Working with HealtheFirst has been excellent.  The implementation and training were easy and the team was so willing to help and in such a timely manner."
Suzy, Agency Manager
"It eliminates redundancy and worries about billings tracking and accuracy. They created a CRM immediately upon our request to help us grow. Most important they help us to be a lot happier and more successful."
Kevin, Agency Owner
"We had a great experience working with the team and technology at HealtheFirst… If you need a Cloud Solution for virtual patient-provider scheduling, meetings, patient management and more staff efficiency, that easily adapts to fit all of your company needs, I highly recommend HealtheFirst. "
Jordan, Integrative Sports Care Coordinator
Statistics
By The Numbers