Case Management
Simplified.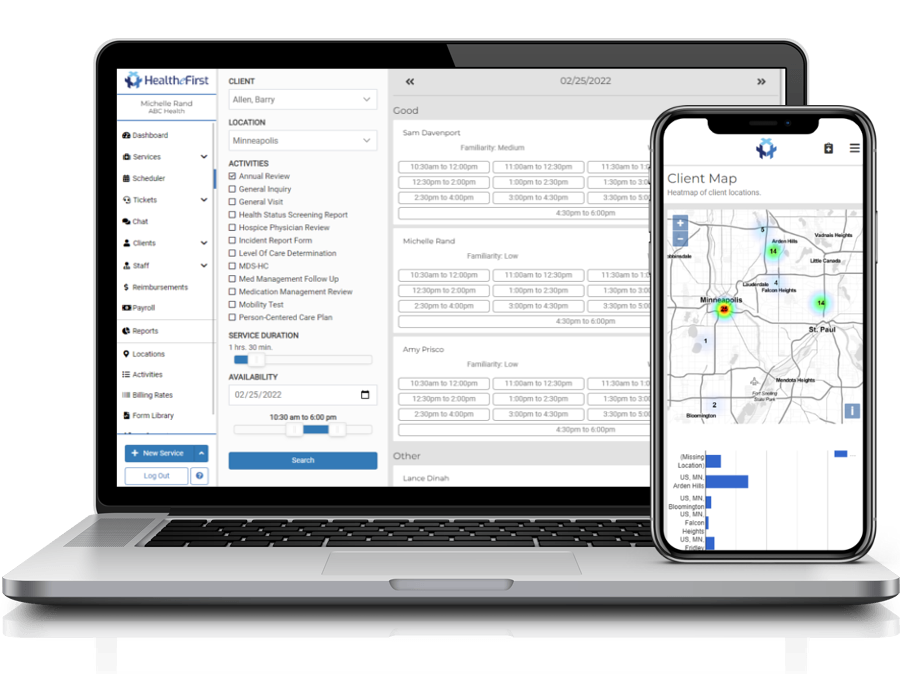 You can easily configure HealtheFirst to perfectly fit your unique needs and use cases. HealtheFirst will scale, grow, and adapt right along with your organization. You can count on us to help you for the life of your company and beyond!
Features
Everything You Need
HIPAA Compliant
We've made securing patient information our top priority so you can stay focused on providing care.
Any Device, Any Location
Provide your team with the freedom and flexibility to work from anywhere.
Electronic Visit Verification
Ensure compliance by automatically recording timestamp and GPS coordinates as staff check into and out of visits.
Increase Cashflow
Submit claims regularly and get paid quickly with a simplified billing that pre-screens claims and allows you to keep your existing clearinghouse.
Full Audit Support
Fear audits no more!  With one-click, targeted exports of patient records, HealtheFirst has you covered.
Real-time Unit Tracking
Maximize revenues and patient care by fully capitalizing on pre-approved units and service targets.
Testimonials
We Let Our Clients Brag For Us
Kevin got his agency running quickly, and saw immediate returns.
"We were managing 150 cases with a an internally created EMR doing case management – workforce management – Excel – Google Docs – Google Drive – Gmail and other mobile and manual tools. Prior to HealtheFirst the workload demanded huge amounts of staff time and even more troublesome energy, focus and redundant activities. .We needed a solution that was easy to implement, required little training, was reasonably priced and had a team that would work with us through every needed change and unexpected challenge. This program is everything and more than I expected. Our company has grown exponentially as a result of this and the ROI has been fantastic."
Matt's agency is thriving now that all of the features they need are in one solution.
"The HealtheFirst Platform is fluent and adapts to diverse use cases and needed adaptations as our industries change. The program allows us to create individual and team-based workflows. Their document, workforce, communications, billings and audit systems eliminate redundancy and time consuming admin work. The EVV and Client Access Portal are amazing features and with the Highly Secure HIPAA communications there is great value in managing information, assignments, case follow up and all other details of client care."
Krissie no longer worries about compliance, audits, or security.
"Managing 50+ cases with an internally created manual case management tracking process prior to implementing HealtheFirst burdened me with all of the concerns and issues of liability as a healthcare owner – leader. We always wrestled constantly stacking up confidential PHR, case assignments, workflow, billings, medical data and compliance. HealtheFirst is an amazing Business Solution for Case Management! Its user interface is amazingly simple, and it has everything needed from scheduling to audit reports. I highly recommend HealtheFirst for a case management company to be very successful."
Enthusiastic Team Ready to Help!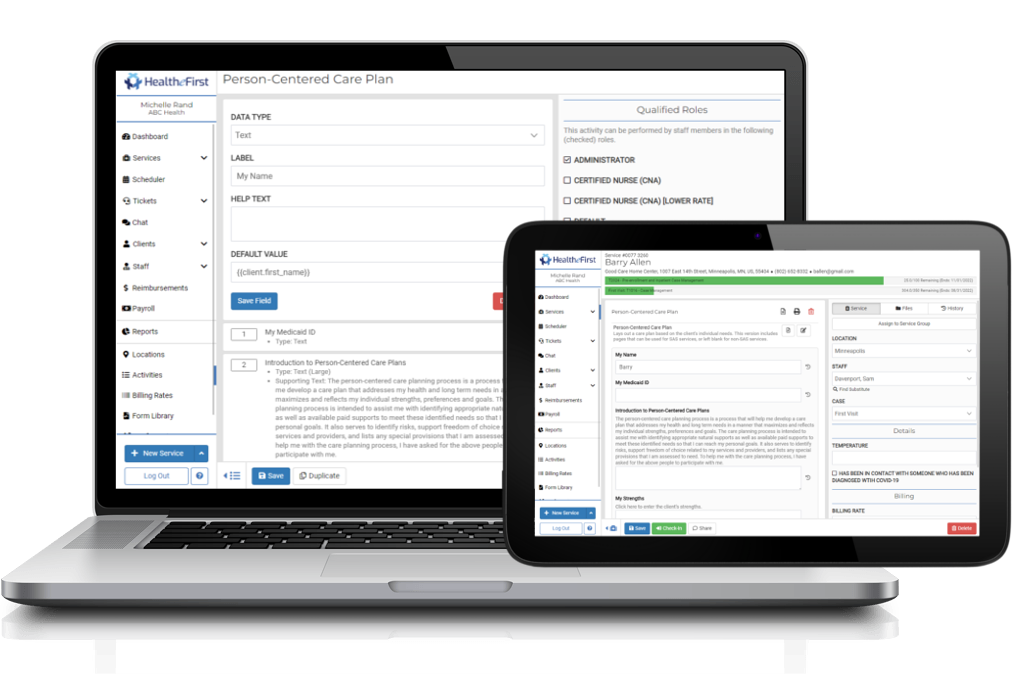 Highlights
Documentation Made Easy
HealtheFirst comes with a library full of existing forms that are free for you to use.  Don't fret if you don't find what you need, though, you also have access to a custom form builder that will allow you to create any form that you need.  
Documentation isn't just about recording information, though.  HealtheFirst makes it quick and easy to complete forms by providing the ability for administrators to configure fields that will auto-complete with client, facility, or staff information, and to allow forms to be synchronized between uses and visits.
Highlights
Your Workflow Your Way
Do you need to allow staff to collaborate to accomplish several tasks for a client at once?  HealtheFirst can do that.
Do you need to schedule a client for multiple services or visits to complete a predefined plan of care?  HealtheFirst can do that.
Do you need your staff to get their services approved before they can be submitted for reimbursement?  HealtheFirst can do that.
Don't let software limitations stand in the way of creating the workflows that your team needs.  Sign up for HealtheFirst today, and watch your team flourish.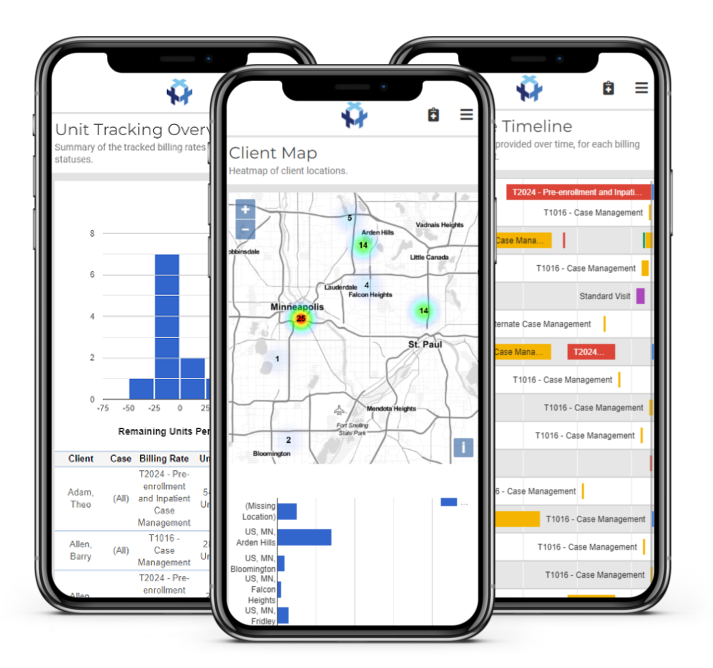 Highlights
Run at 100% Efficiency
Struggling to assign service visits or find viable substitutes when a staff member is unable to make an appointment?  Let HealtheFirst do the heavy lifting by using the Scheduler to manage staff assignments.  The Scheduler aligns qualifications, availability, and client familiarity to select the perfect staff member to fulfill any service.  
Beyond assignments, HealtheFirst has a growing library of reports that can provide the information and analytics needed to optimize your organization.  Find out where your clients are clustered on a map in order to determine where you need your staff located, analyze how long certain activities are taking your team so you can adjust service durations and provide additional training where necessary, and so much more! 
Contact Us Today!
Don't wait to learn how HealtheFirst can help optimize your business.