Meet "Administrator Amy"
Amy is a hands-on home care agency owner who is navigating changing regulations, learning about the new care trends, and figuring out how to continue her business's growth.  She uses HealtheFirst to craft the perfect experience for her staff and clients, so she can focus on the insights she gains from the system to making her life easier and more efficient.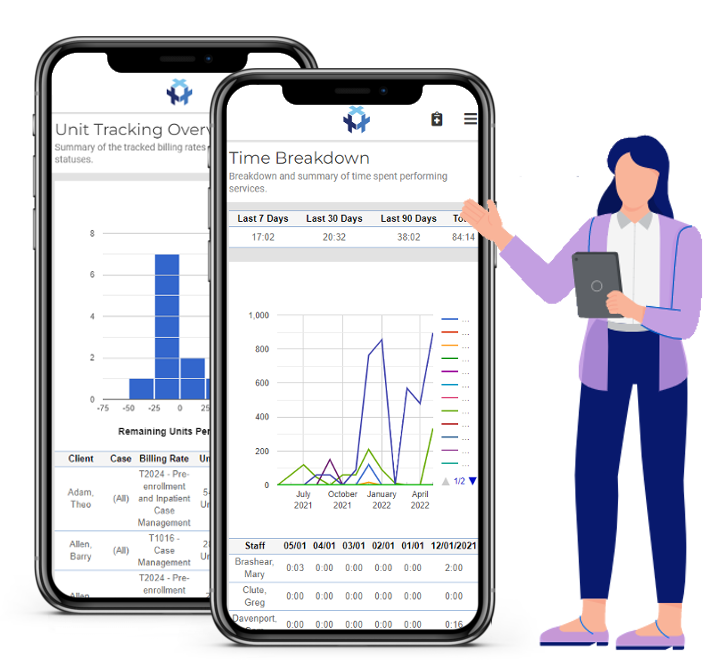 Amy has quick access to her business's vitals
Dashboard with color-coded alerts

Easy to read reports

Secure messaging at her fingertips

Real-time unit tracking
Amy's experience is tailored to her business
Custom workflows, care plans, and forms

Custom reports, plus a report builder

Permissions, branding, and nomenclature all built for you at no extra cost.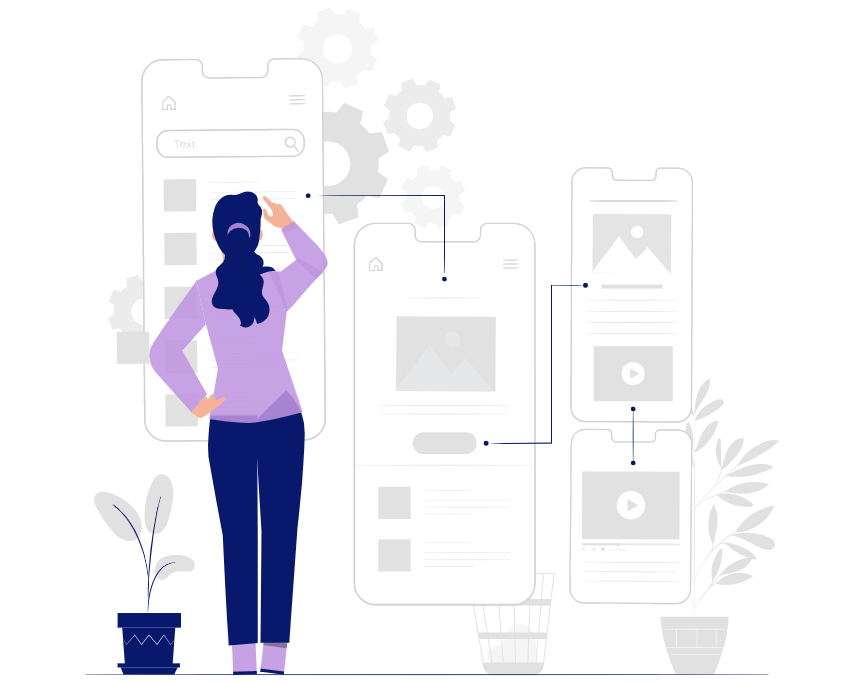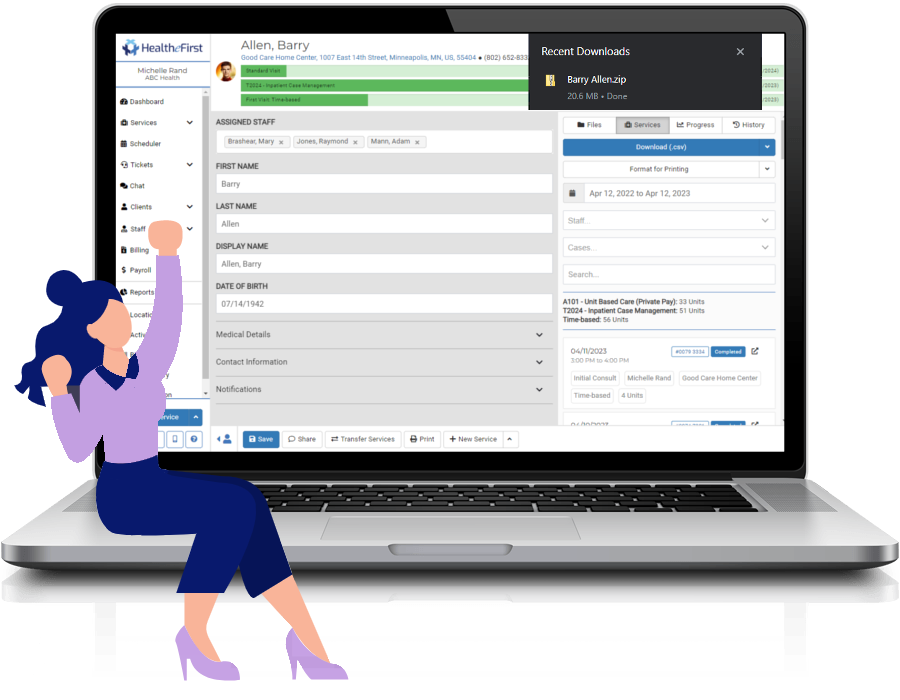 When an audit comes, Amy is ready
Full patient history
Quick, filtered service export
Meet "Caregiver Carla"
Carla works for Amy as part of her agency's care team.  She is a warm, empathetic caregiver who genuinely cares for hier clients, and they love working with her.  HealtheFirst guides Carla through the scheduling and documentation, so she can focus on caring for her clients.
Carla is on the go, and so are we
Staff can easily view their schedule, get directions, check in, and chart their actions.

Familiar forms at her fingertips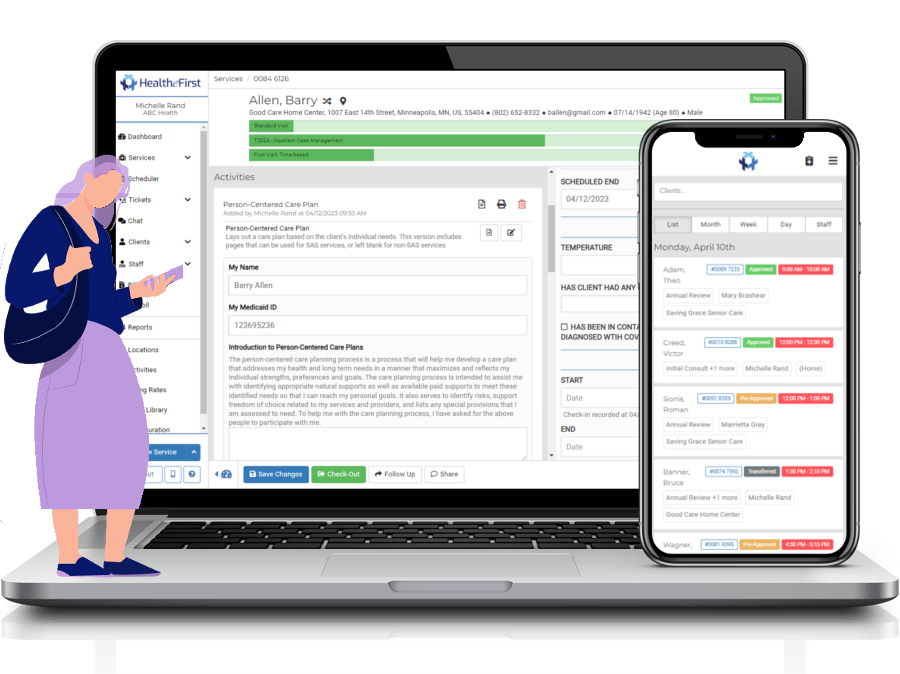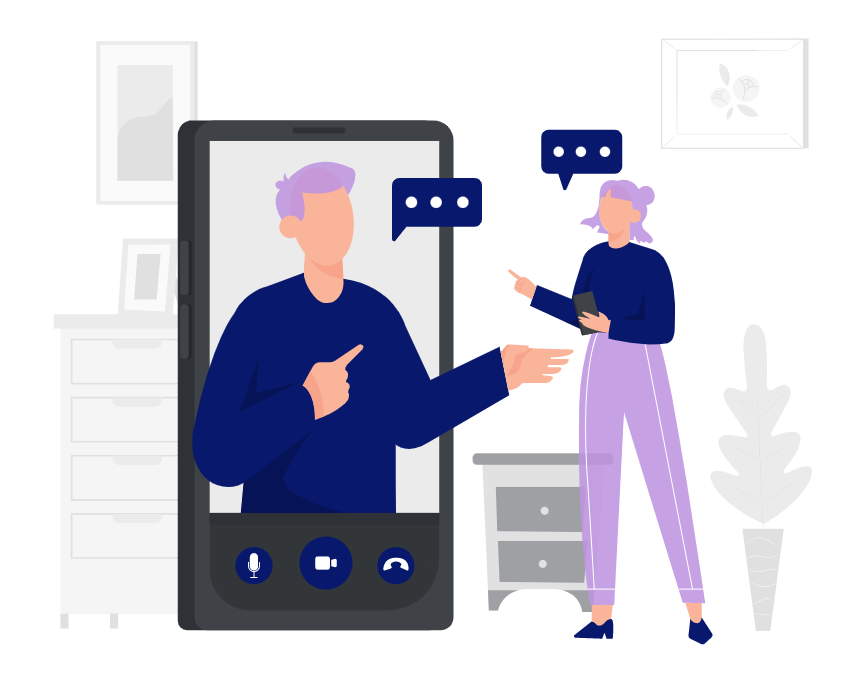 Carla feels connected to the entire care team
Access to full patient history
Secure chat with staff, patients, and family
Personalized care plans
Browse our set of features
Easy to use, built for you, and always improving
HIPAA Compliant
We've made securing patient information our top priority so you can stay focused on providing care.
Smart Scheduling
Match the right resource with the right opportunity based on skill, location, and availability.
Electronic Visit Verification
Ensure compliance by automatically recording timestamp and GPS coordinates as staff check into and out of visits.
Dashboard + Insights
Utilize the canned reports for your home care agency or easily search and save your own.
Billing & Payroll
Utilize your own clearinghouse or generate invoices directly from HealtheFirst.
Family Portal
Patients and their families can log in to their own portal for scheduling and charting.
Trusted by Top Performing Agencies
Real life "Amys" and "Carlas" love HealtheFirst
"We needed a solution that was easy to implement, required little training, was reasonably priced and had a team that would work with us through every needed change and unexpected challenge. This program is everything and more than I expected. Our company has grown exponentially as a result of this and the ROI has been fantastic."
"Working with HealtheFirst has been excellent. The implementation and training  were easy and the team was so willing to help and in such a timely manner."
"HealtheFirst is an amazing business solution for case management! Its user interface is amazingly simple, and it has everything needed from scheduling to audit reports. I highly recommend HealtheFirst for a case management company to be very successful."
Implementation Made Easy
We'll be by your side every step of the way
White Glove Service
We will have account management and engineering leadership on every implementation call to ensure that your rollout goes smoothly.
Custom Forms
We love the unique way you do business and we are here to help
Integrate With Your Existing Tools
Easily integrate data into your current clearinghouse and payroll systems.
Simple Migration
Import your existing data into HealtheFirst in bulk.
Transparent, Scalable Pricing
Monthly rates start at $500, plus a "per patient" fee
Base Access
Unlimited staff members

Unlimited digital forms

Unlimited services

Unlimited storage

Unlimited archived patients

24/7 support tickets & knowledgebase
First 50 Patients
Free
Patients 51-300
$5
Patients 301+
$3