Case Management
Simplified.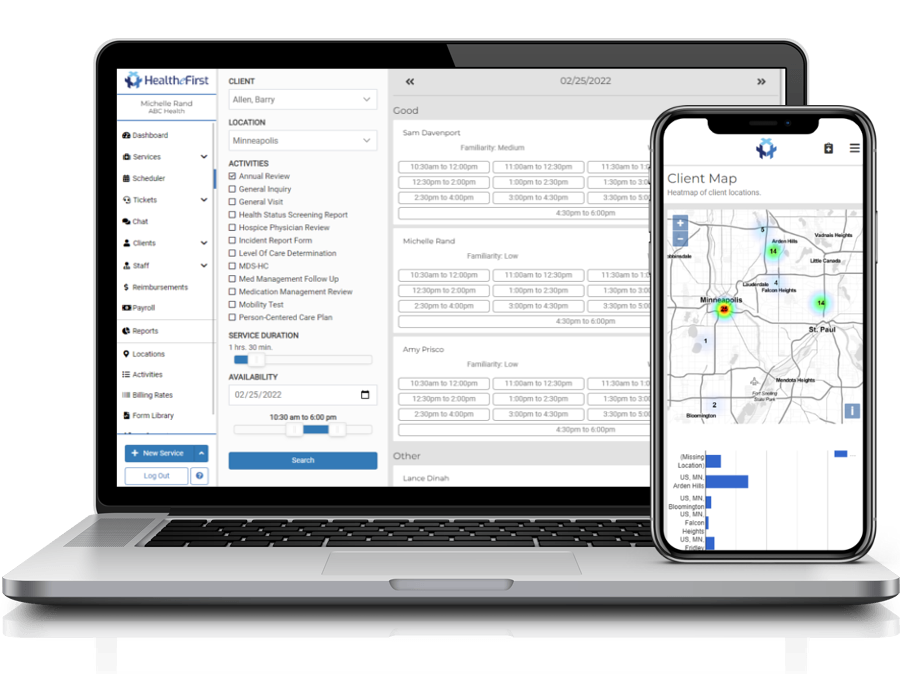 You can easily configure HealtheFirst to perfectly fit your unique needs and use cases. HealtheFirst will scale, grow, and adapt right along with your organization. You can count on us to help you for the life of your company and beyond!
SaaS

Workflow Creation

Workforce Management

Secure Communication

Patient Portal

Biling & Payroll

Reporting & Exports

Visit Verification
Features
Everything You Need
HIPAA Compliant
You can rest easy knowing that all of the information in HealtheFirst is secured in a HIPAA compliant cloud environment.
Claims Reimbursement
Submit claims regularly and get paid quickly.  HealtheFirst simplifies the submission process, and even allows you to keep your existing clearinghouse.
Electronic Visit Verification
Verify services were performed as scheduled by enabling EVV, which records timestamp and GPS coordinates with a single click as staff check into and out of visits.
Audits
Audits are simple with HealtheFirst's convenient export options, including full client histories and documentation, which can be used to satisfy any audit.
Unit Tracking
Stop missing out on revenues because you haven't fully capitalized a client's approved units.  HealtheFirst provides you with real-time progress tracking and notifications so you can maximize outcomes.
Secure Communication
Connect with clients from anywhere with HealtheFirst's secure messaging and video conference portals, which connects clients, caregivers, and staff so everyone can stay on the same page.